Cookson 123 Deal
Our dedicated scrap team offer expert advice on dealing with your scrap - from bench scraps, lemels and sweeps through to clean and hallmarked scrap. A regular collection service is available throughout the UK, or request for one of our Cookson Scrap Pots to return your scrap to us via post.
Our settlement terms couldn't be simpler. There are a number of options available to meet your individual requirements:
Cash or Cheque
Credit the precious metal contents directly into your metal account
Financial account (so payment made to your monthly credit account)
Bank transfer
The '1,2,3' Deal
Our simple three step promotion means that it is the ideal time to use Cooksons scrap service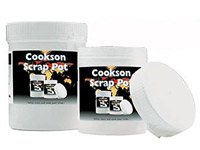 Store your scrap in our free Scrap Pot
Our scrap pots have become an invaluable way for many of our customers to store their scrap material. Simply keep your scrap in the pot, when you wish to recycle your scrap, simply return the pot (with tamper evident lid) to Cooksons.
To order your free scrap pot, Click here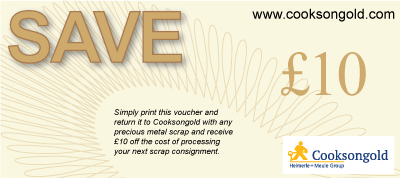 £10 off your 1st scrap consignment
Simply print the voucher out and return it to Cookson PMP with any precious metal scrap and receive £10 off the cost of processing your consignment! Click here to print out voucher.. Alternatively, quote reference "Internet Scrap Discount" when returning your scrap (one voucher per customer).
Return your scrap back to Cookson for Free !
To return your scrap to us :
Simply place your scrap into our scrap pot and seal the tamper evident lid.
Then place the pot into sturdy packaging, for example a jiffy bag.
Print the address label and attach it to your parcel.
Then take your envelope to a Post Office and request 'Special Delivery'. Ensuring that the bar code special delivery label is applied, and that you receive proof of posting and a tracking number.
(Your scrap will then be returned free of charge, and will be insured up to the value of £2,500.)
Please note : do not apply label and place in a post box - your goods will not be insured.
Please be aware that if you are posting from the Channel Islands, you may experiences issues with customs.
Click here to print out the address label.
Useful Links
Frequently asked scrap questions
Contact our scrap experts
Latest Scrap price
The Gold Standard